U.S. Navy Sailor Integral to Auburndale Community Center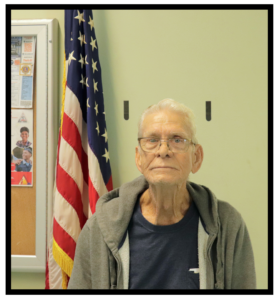 The year is 1964. The Vietnam War is raging. Military conscription is a very real possibility for millions of Americans. All young men between the ages of 18-25 could be called to arms at a moment's notice. Expecting that soon he will be drafted, a young 18-year-old without any money decides to enlist in the United States Navy. Having never left his home state of Alabama before, he now finds himself on a plane to California for basic training. This determined and brave young individual was none other than Larry Caffee.
Larry Caffee's military service spanned several decades, and he served on three different naval vessels during this time. His assignments included the U.S.S. Taconic, the U.S.S. Vulcan, and the U.S.S. Columbus (CG-12).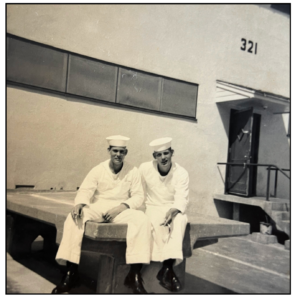 Caption: Larry (left) with a fellow sailor in San Diego, California.
 "I was involved with communications," Larry recalled. "I remember working with teletypes. My mission required me to send and receive messages for the ship and the ship's captain."
Being far from home and out at sea, Larry had to find ways to cope with the challenges of life on the open waters. "I love the water," he said. "I remember plenty of times where I would simply watch the ship bob up and down on the waves, finding solace in the rhythm of the sea."
One of Larry's most memorable deployments took him to the Caribbean. It was a region that had been at the center of global tension just a few years prior during the Cuban Missile Crisis of 1962. This crisis saw the Soviet Union deploy nuclear weapons in Cuba, right on America's doorstep. The issue was resolved peacefully; but it left the world frightened and frantic about the possibility of nuclear war.
Remarkably, a few years after this intense crisis, Larry found himself in the very same region on deployment. When asked about his feelings at the time, Larry responded, "I wasn't worried about the Russians. I had a duty to do, and that is enough to keep a sailor's mind occupied."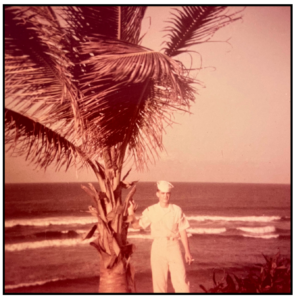 Caption: Larry while stationed in San Juan, Puerto Rico.
Larry's connection to Polk County started when his parents moved here during his Navy deployment. Upon his return from his military duties, he visited them, and that visit marked the beginning of his long-standing residence in Polk County.
"The weather in Florida is nice. The best part is that there is no snow. All around, it is a beautiful place," Larry said.
Fast forward to the present day, Larry Caffee is a part-time employee at the City of Auburndale's Community Center, where he continues to contribute to his community in new and meaningful ways.
His decision to work for Auburndale came down to two factors: he wanted to maintain an active lifestyle, and he enjoyed the extra money. He fondly mentioned that he was hired by the Assistant Director of Parks & Recreation, Ryan Pickles, and thoroughly enjoys working with Ryan and the rest of the staff at the Community Center.
Larry Caffee is a pious man. This religious foundation was poured when he attended church and Sunday school as a kid. Following his Navy deployment, he pursued his spiritual calling by enrolling in Seminary school, coming close to completing his studies before his responsibilities as a father compelled him to leave and focus on raising his children alongside his loving wife.
"The Lord brought my wife home recently. She and I had been together for 57 years," Larry said.
Larry finds solace in knowing he has lived a full life.
"I have had a blessed life," Larry said. "I love the freedoms of this country and I am glad I was born in the United States."
When asked about his future plans, Larry responded by saying: "I plan on doing what the good Lord gives me to do."
Larry Caffee's remarkable journey, from his early religious upbringing to his Navy service, and his subsequent commitment to his family and Auburndale, is a testament to the values of faith, service, and dedication. We extend our heartfelt gratitude to Larry for his service and for the positive impact he continues to make on our community.
—
Want to contact the City of Auburndale's Communications Office? Feel free to email us at jstarr@auburndalefl.com or call at (863) 837-5101.
https://www.auburndalefl.com/wp-content/uploads/2022/08/City-Seal-Website-7-22-296x300.png
0
0
Josh Starr
https://www.auburndalefl.com/wp-content/uploads/2022/08/City-Seal-Website-7-22-296x300.png
Josh Starr
2023-11-07 09:15:25
2023-11-07 11:38:51
U.S. Navy Sailor Integral to Auburndale Community Center