Public Utilities Employee Uses Marine Corps Background to Serve Auburndale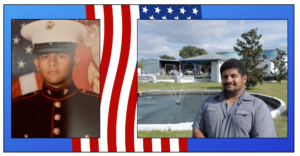 Mariano Maeso has always wanted to serve his country. Even as a kid, he dreamt of donning the uniform of a United States Marine. As he grew older, Mariano pursued his dream and eventually enlisted in the United States Marine Corps. He completed the rigorous Marine Corps basic training at Parris Island, South Carolina in 2019.
"I was excited because I had received orders to travel to Japan," Mariano said. "Then COVID-19 happened."
Travel was as restricted in the military as it was for the rest of the world during the COVID-19 pandemic. Instead of Japan, Mariano found himself at the Marine Corps Base Camp Lejeune in North Carolina.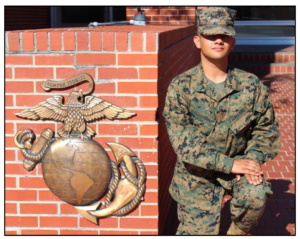 "Despite the shutdown, we were still required to maintain physical fitness, thoroughly clean the base, and fulfill other daily mission requirements," Mariano said. Yet, amidst the challenges associated with the pandemic, Mariano discovered a silver lining in the form of camaraderie. "The best part about Camp Lejeune was the time I spent with my friends in the barracks."
Mariano attributes important lessons of growth and resilience during his Marine Corps journey to the guidance of two influential figures: Sergeant Thomas and Lance Corporal Middlebrooks.  Mariano said, "I went in knowing nothing. They showed me how to do things."
Originally from Puerto Rico, Mariano moved to California at the age of 2. At the age of 14, he and his family moved to Lake Alfred, Florida. Following his service in the Marine Corps in 2023, Mariano found a new path working with Auburndale Public Utilities at the Raymond H. Allred Wastewater Treatment Facility. One of the reasons Mariano wanted to work for the City of Auburndale is because he had many friends who lived here.
"Auburndale is a beautiful city. There are trees everywhere you look."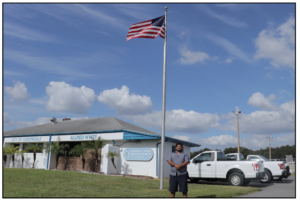 Mirroring his mentors in the Marine Corps, Mariano credits Paul Toler and Jeremy Wycoff as being major influences when he was hired to Public Utilities. "When I was hired by Public Utilities, I knew how to shovel dirt and not much more. Paul and Jeremy were patient and kind enough to show me the intricacies of the job."
In the future, he plans on becoming a Wastewater Plant Operator. This coincides with his desire to return to school so he can further his education.
On Veterans Day, Mariano plans to reunite with his fellow Marines. Reflecting on his time in the Marine Corps, he concludes, "The Marine Corps is worth how tough it is. You don't realize how much you love it until you are gone."
For his unwavering dedication to both the Marine Corps and for his service to the City of Auburndale, we extend our heartfelt gratitude to Mariano Maeso!
—
Want to contact the City of Auburndale's Communications Office? Feel free to email us at jstarr@auburndalefl.com or call at (863) 837-5101.
https://www.auburndalefl.com/wp-content/uploads/2022/08/City-Seal-Website-7-22-296x300.png
0
0
Josh Starr
https://www.auburndalefl.com/wp-content/uploads/2022/08/City-Seal-Website-7-22-296x300.png
Josh Starr
2023-11-09 09:38:59
2023-11-09 09:42:18
Public Utilities Employee Uses Marine Corps Background to Serve Auburndale