Loyal Auburndale Employee Recognized for Veteran Service
For Veterans Day, the City of Auburndale will be posting one article for each day between now and November 11th (Veterans Day). We are honored to introduce you to these members of the Auburndale community. First up, we have none other than Public Works employee Stacey Brown.
Stacey Brown, born in Bartow and a cherished longtime member of Auburndale, graduated from Auburndale High School in 1987. During his days at Auburndale High, he was a skilled Cornerback on the esteemed Auburndale High football team.
In December of 1988, Stacey enlisted in the United States Army. Basic training was completed at Fort Knox, Kentucky. He was assigned the role of a 19D Cavalry Scout, specializing in reconnaissance duties primarily involving the M2A1 Bradley.
When asked about his motivation for enlisting, Stacey recalled, "My parents presented me with two choices: college or the army. I opted for the Army to avoid the extensive studying associated with college, only to later discover that there's no shortage of studying in the Army."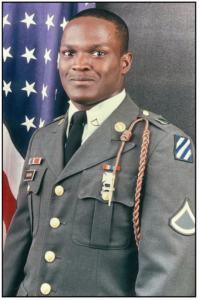 Caption: Stacey's Army Portrait after Basic Training
In response to Iraq's invasion of Kuwait in 1990, Stacey served in Operation Desert Storm, contributing to the NATO-led coalition's efforts to repel the Iraqi invaders. His service also led to deployments in Germany, where he was stationed until his honorable discharge in 1996. Subsequently, he joined the National Guard and served until 2000.
Returning to his hometown of Auburndale after his military service, Stacey found his way into a position at Public Works. Reflecting on this opportunity, he remarked, "My mother was connected with Ms. Cindy Hummel, who worked in concessions. One thing led to another, and I was offered a job with Public Works."
Over the course of 16 years with Auburndale, Stacey spent 13 of those years as a dedicated sanitation collector. For the past 3 years, he has assumed the role as the driver of a claw truck.
Stacey's devotion extends to his family, consisting of three beloved children. He spoke often of them. His heart has also found solace in two cherished churches: Mt. Zion Baptist Church in Auburndale and First Baptist Church in Winter Haven.
Recalling his days in the United States Army, Stacey said: "I met a lot of friends that I now call family."
For Veterans Day, Stacey hopes to visit his favorite restaurant. "I love Olive Garden," he said.
A heartfelt thank you is extended to Stacey Brown for his enduring service to his country and the City of Auburndale.
—
Want to contact the City of Auburndale's Communications Office? Feel free to email us at jstarr@auburndalefl.com or call at (863) 837-5101.
https://www.auburndalefl.com/wp-content/uploads/2022/08/City-Seal-Website-7-22-296x300.png
0
0
Josh Starr
https://www.auburndalefl.com/wp-content/uploads/2022/08/City-Seal-Website-7-22-296x300.png
Josh Starr
2023-11-06 08:33:41
2023-11-07 08:29:03
Loyal Auburndale Employee Recognized for Veteran Service