Shirley Lowrance, Auburndale's Longest-Serving Employee Retires at 46.5 Years

On October 11, 1974, Shirley Lowrance, a recent graduate from Auburndale High School, began her new job at the City of Auburndale as a utility billing clerk. Her entry position was the beginning of what is now a new milestone for the City of Auburndale. Today, July 30, 2021, Shirley Lowrance begins her retirement, making her the longest-serving employee of the City of Auburndale at 46.5 years.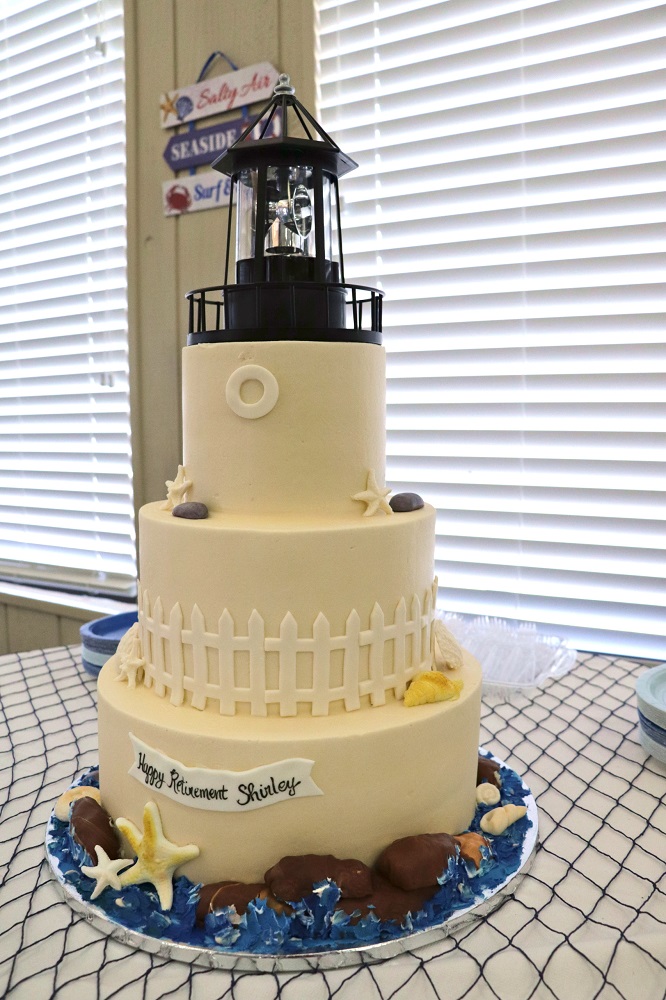 The occasion of Shirley's final day on the job was celebrated with a ceremony at the Lake Ariana Clubhouse. Members of her Finance Department decorated the space and provided a lunch buffet complete with an impressive three-tiered cake, decorated to resemble a lighthouse. Fun fact, Shirley looks forward to starting her retirement off with an adventure to Maine to visit the state's costal icons, their historical lighthouses.
Elected officials of the City Commission joined in the ceremony. Mayor Tim Pospichal presented the framed resolution that was brought up and passed at a recent commission meeting. The resolution resolved the renaming of a local road as "Shirley Lowrance Road" in honor of the many years and countless hours that Shirley has given to the City. The road is located at the western end of Braddock Road, next to the Polk Parkway.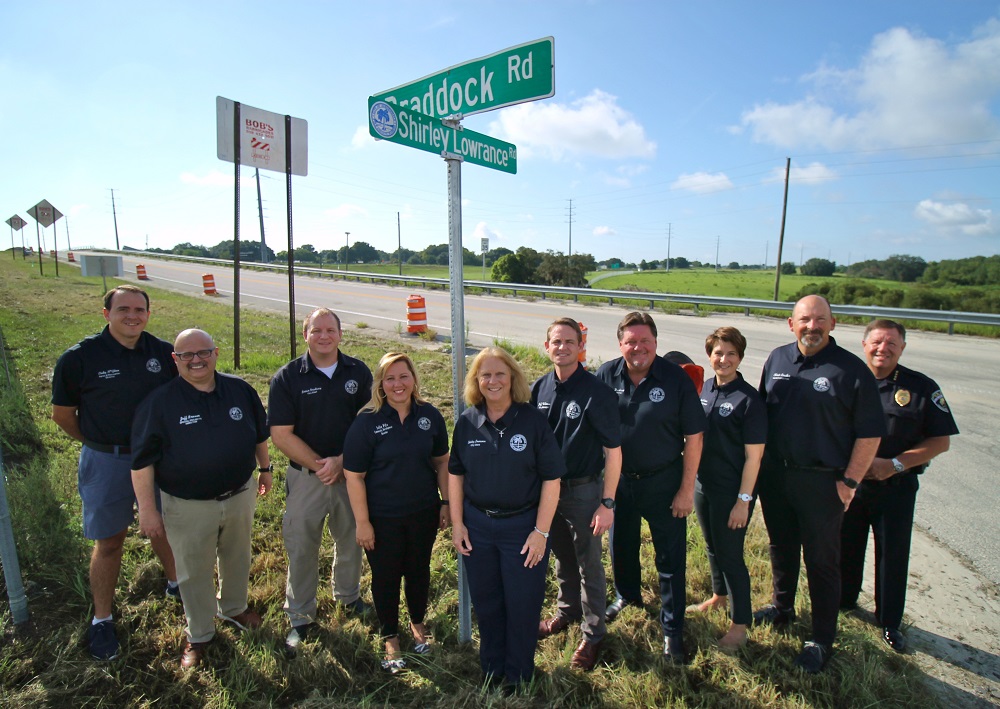 City staff from various departments also joined to congratulate Shirley on her accomplishment and retirement. Former City Manager Bobby Green welcomed all to recognize Shirley's record as the longest-serving employee, a mile marker that is not expected to be surpassed anytime soon, if at all.
Timeline
1974: Shirley graduates from Auburndale High School
1974: Hired by the City of Auburndale as a utility billing clerk
1974-1991: Promoted to Finance Clerk II and Finance Clerk III
1978: Earned Associate's Degree in Finance at Polk Junior College
1988: Joined the Florida Association of City Clerks
1991: Promoted to Assistant City Clerk and Budget Analyst
1991: Received Certified Municipal Clerk designation
1994: Named City of Auburndale's Employee of the Year
1995: Promoted to City Clerk
2002: Received First Level Membership in the Master Municipal Clerk Academy
2003: Title of Finance Director added to reflect Shirley's responsibilities
2003: Received Bachelor of Science in Business Administration/Accounting from Webber University
2006: Received Second Level Membership in the Master Municipal Clerk Academy
2015: Shirley surpassed Former Fire Chief Jim Hancock's longevity record at 40 years.
2017: Received Master Municipal Clerk designation
2021: Retirement from the City of Auburndale
As Shirley enters her retirement, the City of Auburndale wishes her the very best in her travels and future endeavors. Thank you for everything, Shirley Lowrance.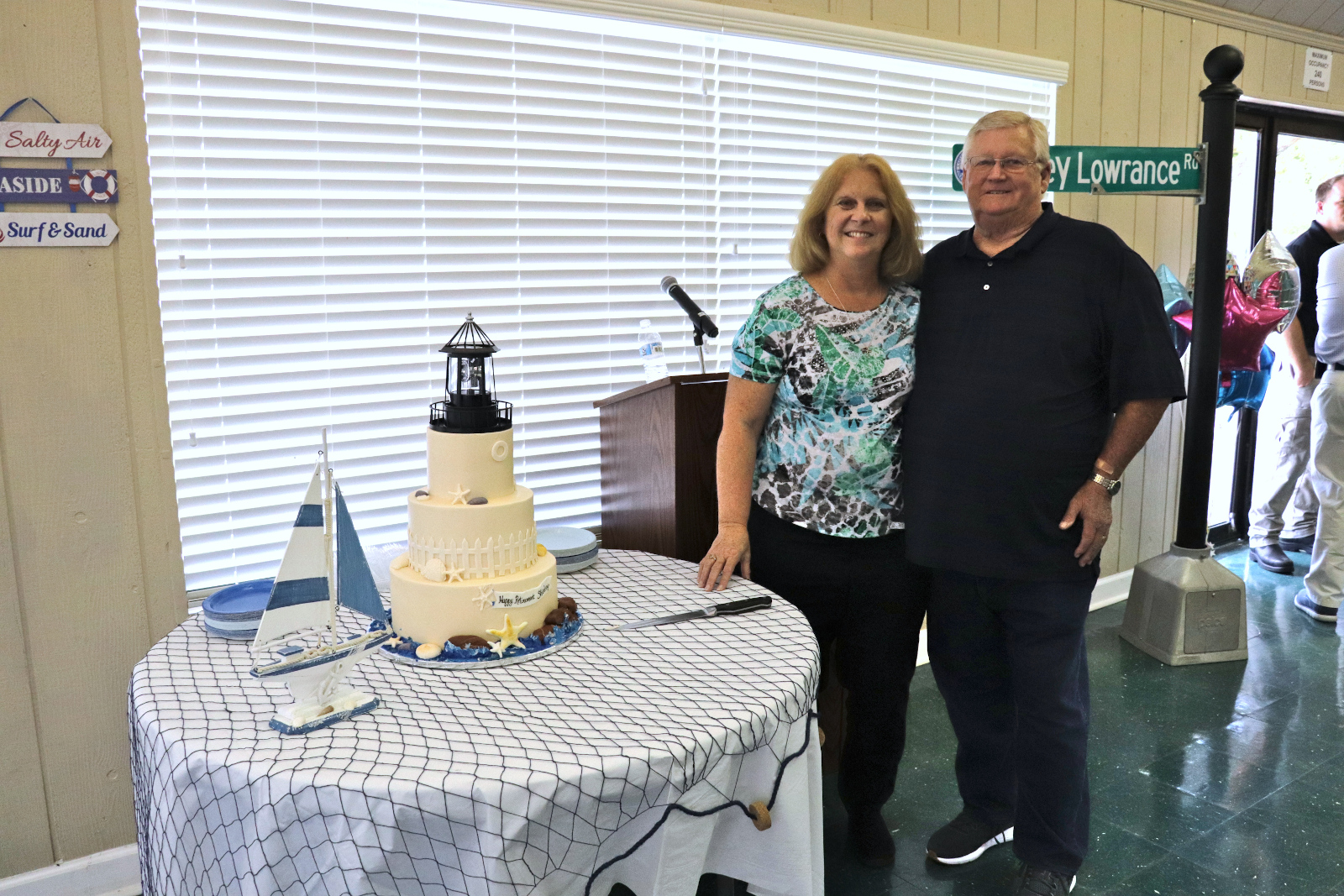 https://www.auburndalefl.com/wp-content/uploads/2021/07/Shirley-and-Commission-Retirement-Party-Web-1600-e1627678178513.jpg
600
1600
Seth Teston
https://www.auburndalefl.com/wp-content/uploads/2022/08/City-Seal-Website-7-22-296x300.png
Seth Teston
2021-07-30 16:55:12
2021-07-30 16:59:17
Shirley Lowrance, Auburndale's Longest-Serving Employee Retires at 46.5 Years