Lake Myrtle Employee Brings Army Expertise to Auburndale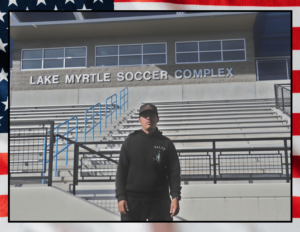 Jarred Ison's journey in the United States Army began in 2018 when he served on active duty until 2021, primarily focusing on the M1 Abrams main battle tank. While he remains in the Individual Ready Reserve, he decided to contribute his military expertise to the community of Auburndale, currently working at Lake Myrtle Sports Complex as an Athletics service worker.
Born and raised in Polk County, with most of his years spent in Auburndale, Jarred's family history is deeply intertwined with military service. His father, an Auburndale High School graduate from the Class of 1988, is an Army veteran, and his stepfather also served in the Army. Tracing his lineage even further, his grandfather served in the United States Navy. Jarred noted, "My lineage was an important part of why I decided to enlist in the Army. Military service can be traced back in my family for many generations."
Jarred's journey as a soldier began with 17 weeks of training at Fort Benning, officially designating him as a 19K M1 A2 Armor Crewman. One notable deployment during his active duty days was in Europe, where they operated from Belgium to Germany, and even ventured into the country of Georgia. Their primary base of operations was in Romania. These exercises held memorable moments, including the time when Jarred and his tank crew were awarded an Army Commendation Medal for achieving the top tank performance in a whole battalion during an exercise.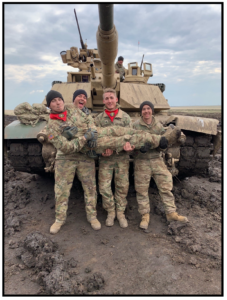 After his active duty service, Jarred returned to Auburndale, and it was during a visit to a local park with his family that he stumbled upon an opportunity. He said, "One day, my wife and I brought our son to the Auburndale Park. I was looking for a job and I noticed how nice the park looked. I went online and found a job at the Lake Myrtle Sports Complex and applied. Cody was helpful in my application process, and I was hired." Since then, the Isons have welcomed a daughter into their family, and Jarred still enjoys taking his children to the parks.
When asked about his plans for Veterans Day, Jarred responded: "I plan on catching up on sleep. Maybe after that, we'll go to a restaurant to eat. I especially want to take time to spend with my family."

Reflecting on his military service, Jarred has no regrets and contemplates the possibility of returning to active duty. He also envisions working his way up within the Auburndale community, a place he holds dear. Whichever path Jarred decides, he will have the full support of Auburndale.
In closing, the community extends its gratitude to Jarred Ison for his service to the country and to the Auburndale community.
—
Want to contact the City of Auburndale's Communications Office? Feel free to email us at jstarr@auburndalefl.com or call at (863) 837-5101.
https://www.auburndalefl.com/wp-content/uploads/2022/08/City-Seal-Website-7-22-296x300.png
0
0
Josh Starr
https://www.auburndalefl.com/wp-content/uploads/2022/08/City-Seal-Website-7-22-296x300.png
Josh Starr
2023-11-09 09:44:20
2023-11-09 09:48:32
Lake Myrtle Employee Brings Army Expertise to Auburndale