Auburndale Honored with Excellence in Historic Preservation Medal

The City of Auburndale was recently awarded an Excellence in Historic Preservation Medal by the Daughters of the American Revolution (DAR). Members of the "Ponce de Leon" chapter of DAR attended Monday night's city commission meeting to present the award to the City Commission.
The Excellence in Historic Preservation Medal recognizes and honors those who have done extraordinary work over a period of time in preserving or restoring local history. This award has been given to the City of Auburndale for the continual work being done to maintain and remodel City Hall.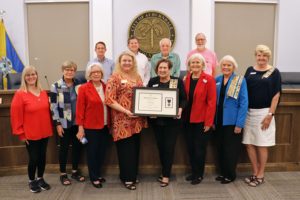 Auburndale's City Hall was constructed in 1927 and designed by Rolland C. Buckley of Lakeland. It is an example of an Italian Renaissance Revival building. On May 3, 1926, the City Commission voted to build new city offices after purchasing a lot from Ephriam M. Baynard for $6,000. The contractor that was hired to build the municipal building was Paul H. Smith.
City Hall has always housed municipal services, including fire and police, a jail, city court, and the library. Today the building is home to the City Manager's Office, Community Development, and the Commission Room.
In 2013, City Hall was listed on the National Register of Historic Places. Five years later, a series of restoration projects were underway, starting with the exterior. The City Commission voted in 2017 to repair the structure's roof and later approved plans to repoint all the brick and mortar for the entire exterior of City Hall.  The purchase of new windows was approved in 2022 to replace all of the windows that had been installed in the 1980's with a historic-style steel casement window, which would match the material and the function of City Hall's original windows.
With the exterior secure, several projects have been planned to remodel and restore the interior of the building. The new Commission Room on the first floor of City Hall was completed in December of 2022. Once completed, the former Commission Room on the second floor was slated for a tear down and remodeling. That project is now nearing completion and will become the new City Manager's Office.
Through the completion of these projects, City Hall looks to be in great shape when it reaches 100 years of age in 2027! The City of Auburndale is looking forward to that milestone and the next 100 years to come.
https://www.auburndalefl.com/wp-content/uploads/2019/05/City-Hall-5-3-2019-Front-Page-V3-e1568225003968.jpg
672
1500
Seth Teston
https://www.auburndalefl.com/wp-content/uploads/2022/08/City-Seal-Website-7-22-296x300.png
Seth Teston
2023-10-17 15:07:14
2023-10-18 09:45:35
Auburndale Honored with Excellence in Historic Preservation Medal