Former Army Paratrooper finds New Calling Mentoring Youth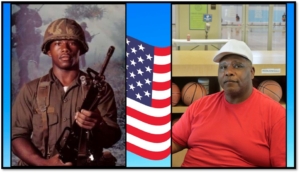 Wilfred Jr. Walker, known affectionately by the community as "Pop," is a dedicated family man. Pop has a remarkable family tree that includes 8 children, 47 grandchildren, and 13 great-grandchildren. In 1980, he joined the United States Army Airborne so he could provide for his children at the time. During his military career, he participated in 134 jumps.
"The first jump is always terrifying. You must take a leap of faith, literally in this case. After the first jump, I was eager to do more," Pop shared.
During his time with the Army, he was an infantryman first and foremost. He also assumed the responsibility of a supply sergeant. In this role, his primary duty was to ensure that every member of his unit had access to the required essential provisions.
"My job was to make sure everyone had what they needed – blankets, supplies, whatever was required."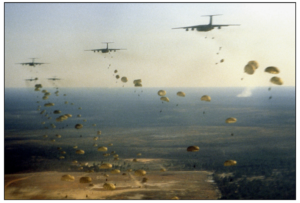 Caption: U.S. Army Airborne paratroopers jumping in 1988, the same decade when Pop served.
To provide background, Pop is originally from North Carolina. His early life was marked by a significant loss when his father passed away when Pop was just 8 years old. This meant that his mother and grandmother assumed the responsibility to raise him.
While stationed in California, Pop had a chance encounter that would change his life. During a night outing, Pop met his future wife Philimena. Interestingly, Philimena was from Hawaii. To keep that initial connection alive, the two relied on payphone conversations as their means of communication.
Pop vividly recalls these days. "I told Philimena that I would be in Hawaii soon. She did not believe me because the chances of me being stationed in Hawaii were low. Just two months later, I received my orders for Hawaii. From there, as they say, the rest is history."
In 2020, Philimena Walker passed away after the couple had enjoyed 35 years of marriage. This significant loss left a profound impact on Pop, who reflected on his continued existence, saying, "I'm blessed to be living still. I live to uphold the legacy of those who have passed."
Pop's journey in life is marked by unique achievements. He and his cousin, Ernie, both proudly hold the distinction of being first-generation high school graduates. Notably, Ernie served in the United States Army for an impressive 27 years, adding to the family's legacy of military service.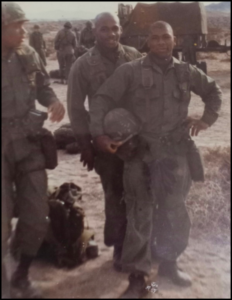 Pop's own military path was shaped by his ambition to advance toward a lifelong career within the Army, much like his cousin Ernie. However, his ambition took a different turn when he was medically discharged from the United States Army in 1987 due to an injury related to his paratrooping activities. This led his life in a new direction.
In his post-military life, Pop discovered a new calling in mentoring youth, which became a source of great fulfillment for him. This newfound purpose ultimately led him to his current part-time position at the Auburndale Community Center.
Pop found a new calling mentoring youth. This led him to his part-time position at the Auburndale Community Center. He found it important to mentor his own children too.
"I coached my children in sports until about the 9th grade," Pop said.
His objective is to give back to the community.
As previously mentioned, Pop is undeniably a family man, with the affectionate nickname "Pop" bestowed upon him by his grandchildren.
When asked if he had any words of advice for today's youth, he said: "Keep your eyes on the bigger things in life. There are things that will make you mad, and there will be things that make you worry, but you have to choose what is worth pursuing."
In conclusion, we extend our gratitude to Pop, not only for his insightful words of wisdom but also for his dedicated service to our country, which has left an indelible mark on his family, his community, and to the nation as a whole.
https://www.auburndalefl.com/wp-content/uploads/2022/08/City-Seal-Website-7-22-296x300.png
0
0
Josh Starr
https://www.auburndalefl.com/wp-content/uploads/2022/08/City-Seal-Website-7-22-296x300.png
Josh Starr
2023-11-09 14:53:44
2023-11-09 15:45:48
Former Army Paratrooper finds New Calling Mentoring Youth