City Commission Commends Auburndale Central Elementary Principal – Polk County's Principal of the Year

The Auburndale City Commission has presented a commendation to Auburndale Central Elementary Principal Octavia May for her recognition as Polk County Public School's Principal of the Year.
Octavia started working for Polk County Schools 27 years ago as a paraprofessional educator.  From there, she became a teacher, then an assistant principal, and for the last ten years, she's been a principal. This year marks her sixth year as principal at Auburndale Central Elementary.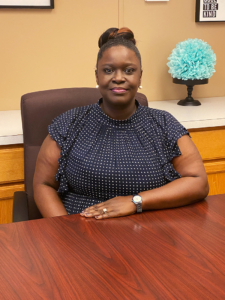 In that time, Octavia has been able to raise the school's performance. She has reduced the school's discipline rate by creating a culture that rewards positive behavior. The school also encourages students to pursue accelerated reading opportunities, as well as challenging lessons in science. Most importantly, Octavia has built relationships with staff, students, families, and the community. She loves coming to work every day because of her and her staff's passion for serving students. For that reason, she has been recognized as this year's Principal of the Year by the school district.
Each Florida school district names its top principal every year as part of the statewide Principal Achievement Award for Outstanding Leadership program.  The program was established in 1988 to recognize exemplary principals for their contributions to their schools and communities. The program honors principals that have spearheaded initiatives to increase student performance, promote safe learning environments, and establish partnerships with parents and community members. Octavia May has shown excellence in being an administrator, and has also created a successful academic culture for students and staff.
The City of Auburndale would like to thank Octavia May for her dedication and wish her well this upcoming year in the statewide selection for Florida's Principal of the Year..
https://www.auburndalefl.com/wp-content/uploads/2020/11/Octavia-May-Commendation-Mask-1920.jpg
1122
1920
Seth Teston
https://www.auburndalefl.com/wp-content/uploads/2022/08/City-Seal-Website-7-22-296x300.png
Seth Teston
2020-11-16 20:07:55
2020-11-16 20:07:55
City Commission Commends Auburndale Central Elementary Principal – Polk County's Principal of the Year