Auburndale Police Officer Serves Country and Community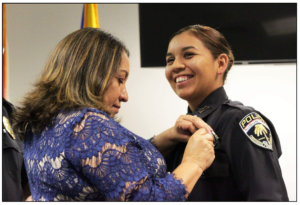 Caption: Lizet and her mother at the Auburndale Police Department's Swearing-In Pinning Ceremony (June 2018).
Auburndale Police Officer Lizet Carrizales understands the meaning of perseverance. She is a first-generation Mexican-American, both her parents being from Mexico. She has called Polk County home her whole life. In fact, she graduated from Kathleen High School, Lakeland, in 2008. A few months post-graduation, she enlisted in the Army National Guard, sealing her commitment on November 26, just three days shy of her birthday. She continues to serve with the National Guard to this day.
"I enlisted because I had no clear path in life. The National Guard provided a foundation. Eventually, my best friend and I decided to enlist together," Lizet said.
Her initiation into this rigorous world of the Army National Guard commenced at Fort Leonard Wood, Missouri, where she underwent basic training. In 2010, she was deployed to Kuwait for Operation Iraqi Freedom.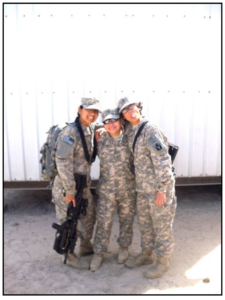 Caption: Lizet (left) while deployed in Kuwait in 2010.
Eventually, Lizet's role transitioned from an Army fueler to Army logistics. Most recently, Hurricane Ian brought widespread destruction to the state of Florida in 2022. Lizet was activated to assist in disaster recovery. Shortly before Hurricane Ian, Lizet had assisted in emergency assistance during the COVID-19 pandemic.
Speaking about her work with the National Guard, Lizet explained, "Our primary mission in logistics is to efficiently and effectively distribute emergency supplies like water and medicine to the affected populations."
For the past five years, Lizet has also been an integral part of the Auburndale Police Department. She stumbled upon this opportunity through a news broadcast that mentioned vacancies in the department. Auburndale's small-town charm drew her in. Lizet has significant appreciation for her colleagues and the department's flexibility when it comes to juggling her military duties.
Lizet revealed that, "Auburndale is great. They are flexible to my military commitments. Additionally, I appreciate my fellow police officers for their patience. It can be overwhelming at times for all of us when I am unexpectedly called for military duty."
Often, Lizet must commit to military duties after long police shifts. Yet, the support from her loved ones serves as an invaluable anchor during those demanding times.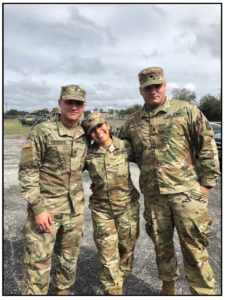 Caption: Lizet being promoted to E-5 (Sergeant) in 2018.
Adding to her list of achievements, Lizet successfully completed her police academy training at Polk State College and later earned her Bachelor's Degree in Criminal Justice from St. Leo University.
"Long term, I want to serve for 30 years with the Army National Guard and retire at 20 years with the Auburndale Police Department. Ultimately, I want to retire happily and safely," she concluded.
The reasons behind Lizet's hard work, dedication, and perseverance are profoundly shaped by her aspiration to honor the sacrifices her immigrant parents made during their journey to America. Her commitment to a career in law enforcement draws from her childhood, a period when she vividly recalls the scarcity of Hispanic women in the law enforcement field. Notably, she spoke about her desire to be a good role model for her daughter and nephew. These factors play a major role in Lizet's career path and life choices.
Lastly, when questioned about her plans for Veterans Day, Lizet shared her excitement about going to watch her daughter play in a soccer tournament.
Thank you, Officer Lizet Carrizales, for your continuing dedication to the country and to our community! We are eager to see how your career prospers.
—
Want to contact the City of Auburndale's Communications Office? Feel free to email us at jstarr@auburndalefl.com or call at (863) 837-5101.
https://www.auburndalefl.com/wp-content/uploads/2022/08/City-Seal-Website-7-22-296x300.png
0
0
Josh Starr
https://www.auburndalefl.com/wp-content/uploads/2022/08/City-Seal-Website-7-22-296x300.png
Josh Starr
2023-11-08 10:04:02
2023-11-08 10:04:02
Auburndale Police Officer Serves Country and Community